American cars that don't suck... on Gas.

By Peter Valdes-Dapena

The last time there was a big run-up in gas prices it helped push U.S. automakers to the brink of ruin. This time, things are different.

Now, the U.S. auto industry is much more competitive than it has been a long time, offering a lineup of fuel efficient cars that people actually want to buy.

Take the Chevrolet Cruze (26 City / 36 Hwy) and Ford Focus (25 City / 35 Hwy), for instance. Both are vast improvements over their predecessors. They reflect very different personalities, though.

The Cruze is more sedate and feels more "grown up." It's a car for buyers who want a small car that feels like a big one. The new Focus, on the other hand, is edgy and taut. It's more fun to drive than the Cruze but might wear on those who prefer a smoother ride.

In March, sales for the Cruze were up a 180% compared to the Cobalt it replaced and Focus sales, with the new cars just entering showrooms, were up 22%.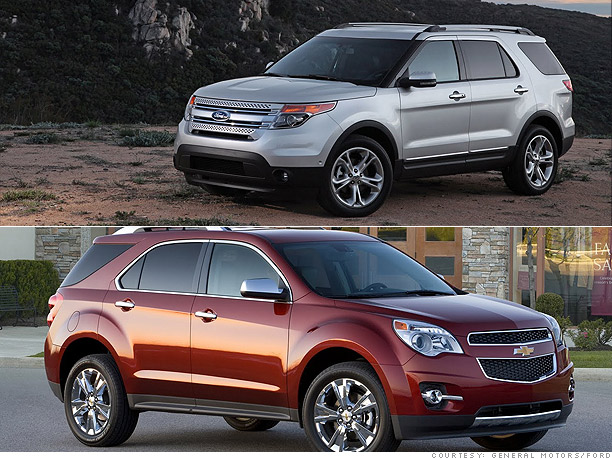 SUVs were a major cause of Detroit's headaches during the last gas crisis, but they're riding to the rescue this time. That's because SUVs have changed a lot over the last few years while America's desire for them has remained relatively strong.

This time around, if you see a new SUV on the road it will probably be a car-based crossover like the new Ford Explorer or the Chevrolet Equinox. These two don't really compete directly, though.

The Explorer (17 City / 25 Hwy) is a three-row crossover with a truck-like feel, some off-road capability and more hauling capacity. The Equinox (22 City / 32 Hwy) is a small, two-row that's pleasantly car-like to drive. You probably wouldn't want to venture far beyond the asphalt, but it's among the cheapest non-hybrid SUVs to fuel.

GM sold 53% more Equinoxes last month than the same month a year ago and Ford Explorer sales were up a massive 138%.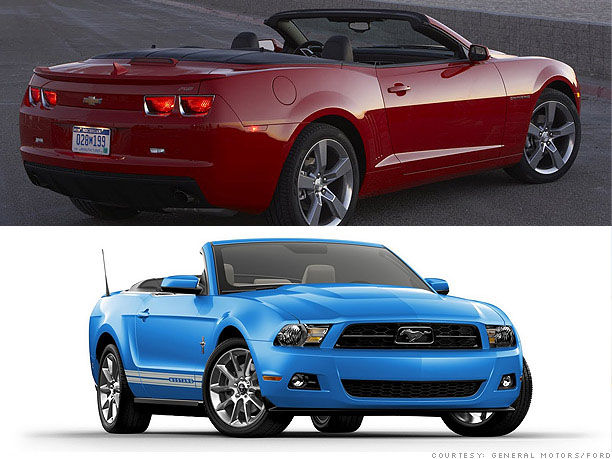 To continue making big brawny performance cars like the Ford Mustang (19 City / 29 Hwy) and Chevrolet Camaro (17 City / 28 Hwy) was taken by some, not too long ago, as a sure sign that Detroit was out of touch. Who wants rumbling, gas guzzling rear-wheel-drive cars in the age of high gas prices?

So while the automakers have kept the cars, they've taken out the gas guzzling part. These cars are now available in V6 versions --- once the choice of poseurs -- that offer real performance along with lower fuel bills.

Of course, you can still get V8 powered Mustangs and Camaros, but even those aren't as thirsty as they used to be and they deliver more power.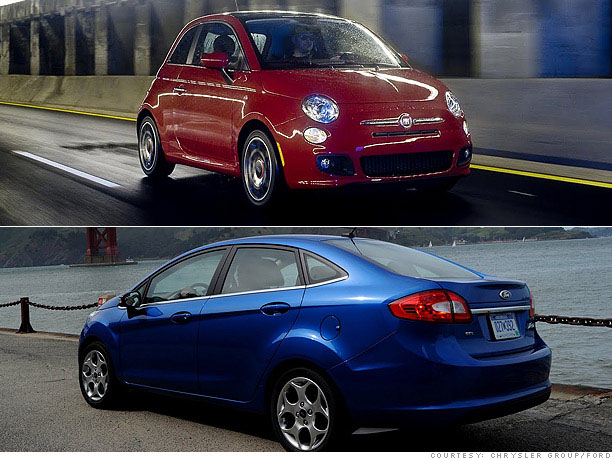 So you're thinking, "What's a Fiat 500 doing in this list of American cars? That's an Italian car!"

Yes, the Fiat 500 (30 City / 38 Hwy) was developed in Europe and is manufactured in Mexico, but it's sold by Chrysler. Which makes it every bit as American as the Ford Fiesta (28 City / 37 Hwy), which was also developed in Europe and is manufactured in Mexico.

With globalization, finding a "pure" American car isn't as simple as it used to be. But the good news is that through "diversity" American automakers are making better small cars, and bigger profits. The Fiesta is ultra-efficient and fun to drive. We haven't tested the 500 yet but it sure is cute. We'll let you know what we think of it soon.

Ford cranked out over 9,000 Fiesta sales last month for the second month in a row. Chrysler dealers sold an encouragingly auspicious 500 Fiat 500's in March, the car's first month on the market here, and 882 last month.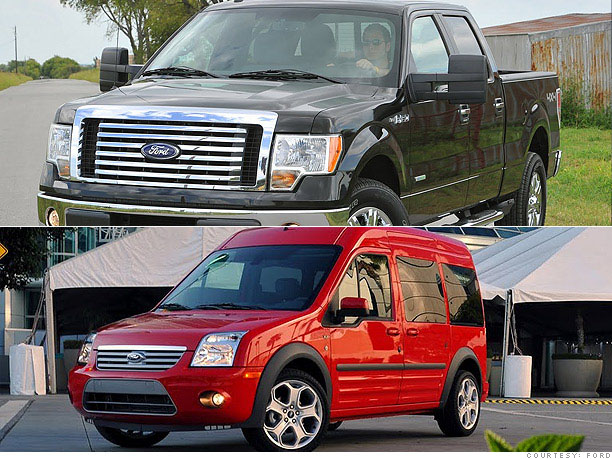 Americans love their big, powerful, tough trucks. So when Ford introduced a full-sized F150 pick-up with a V6 engine (17 City / 23 Hwy) you might think truck buyers would die laughing at the idea.

Instead, half of all F-150's sold last month had the new Ecoboost V6 engine. The reason is simple. The engine has nearly the same towing and hauling capability as the V8 engine but with the fuel economy of a regular V6. When you add good performance to the fuel efficiency, what's not to like?

Ford's small commercial van, the Transit Connect (21 City / 26 Hwy), is finally finding more buyers, too. Sales of the small, but very functional, van were up 22% last month.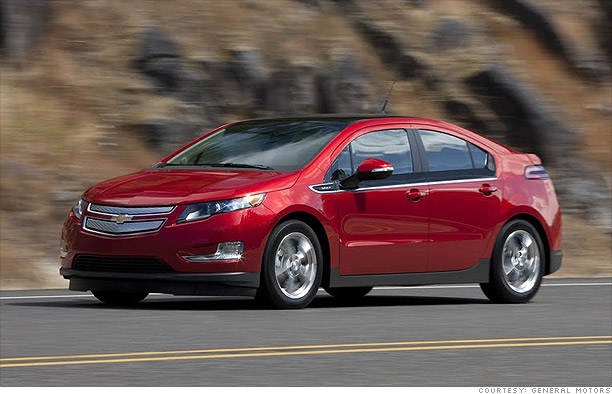 Chevrolet Volt sales were actually down last month compared to the month before, but it wasn't because people didn't want to buy them.

For now, GM is selling as many Volt's as it can make, which isn't a whole lot. In March, GM sent 300 Volts to dealerships to be used as demonstration cars replacing Volts that were getting too old for the job.

That mean fewer for customers, so GM sold only 493 Volts in April, a drop from over 600 the month before. (April also marked the first month that Nissan's Leaf outsold the Volt.)

While interest in the Volt is probably driven by much more than just gas prices, at least for now, the car's long-range plug-in hybrid technology shows GM is serious about taking the steps needed to get away from gasoline in ways that consumers will accept.